Profile & Curriculum
Profile of the Master's Programme
Economic history addresses a wide range of both fundamental and applied questions: What are the underlying reasons for economic growth? What explains economic crises and recovery? Why have some nations become rich and others poor? Why has the world economy converged at some points in history and disintegrated at others? What is the role of institutions and the state? How does our understanding of the economy and our theoretical models shape economic outcomes? What is capitalism? Has it always functioned the same way? When did it come into existence?
In the master's programme History & Economics you will discuss these questions and many more. You will get a fresh look at topics such as the Great Depression, long-term economic growth, sovereign debt crises, or the effects of global economic interrelations on corporate structure – all from the perspective of research in economic history. Next to sharpening your discussion skills you will deepen your knowledge of the latest quantitative tools that allows you to support your arguments with relevant data and empirics.
---
The Study Programme – What must I do?
The H&E Master programme has a clear structure with a set of foundational courses, a convergence module to address students with different academic backgrounds, a set of modules to acquire the necessary skills and methods, a number of courses to learn about research and debate in economic history, a module to apply your knowledge in practice, and a wide range of electives allowing our students to specialise according to individual interests and aptitude. Our programme will provide you with solid foundations and the opportunity to carve out your own distinctive academic and professional profile.
You will study three modules that will provide you with foundational knowledge in economic history, two modules that will make sure all Master students gain common basic knowledge of methods and concepts, three modules that teach the specific methodological skills in "quantitative" as well as "qualitative" economic history, one module running over three semesters to learn about research and debate, and one mandatory internship to apply your knowledge and sharpen your career profile.
You can download an overview of the study programme here. Note that this is only an ideal example! Additional information, for example in the form of a brochure, a detailed module handbook, or our examination regulations can be found in the download area below.
The objective of this course is to provide a systematic overview of the central scientific issues, research approaches and findings in economic history with a special emphasis on economic growth, development and crises. You will learn about different historical episodes with varying growth patterns and critical slumps like the Great Depression of the 1930s or the "Economic Miracle" in the Western World during the 1950s. You will discuss the underlying factors and learn to draw on different economic theories for their explanation.




The Mount Washington Hotel, Bretton Woods, New Hampshire (ca. 1910), Site of the Bretton Woods Conference 1944. Public Domain

The international flow of goods, migration, and foreign direct investment, the structure of multinational firms and the international monetary order all have seen drastic changes over the last two centuries. Based on different historical episodes of global integration and disintegration the course will discuss the historical underlying factors and draw on different economic theories for their explanation. What role, for example, did the Gold Standard of the late nineteenth century or the System of Bretton Woods (1944-1973) play for international economic relations? How important were tariff and non-tariff barriers for international trade? The Foundations II module provides a systematic overview of the issues, research approaches and findings in the history of the global economy.


Germans exchanging old into new currency after the German Currency Reform of June 20, 1948.

States and institutions have always played a crucial role in economic history. Yet the specific constellation of state actors, non-governmental organizations and the private sector has been constantly changing. When did states begin to regulate the economy? Why are institutions important to understand how the economy functions? Why were some economic transactions carried out in the marketplace but others not? The objective of this course is to provide a systematic overview of the role of economic policy and economic law as well as corporate strategies in economic history. Based on different historical episodes the course will discuss and explain the different roles of states and institutions and their varying impact over time.

The Foundations Modules are the centerpiece of our study programme but they are complemented by a range of other compulsory courses that will equip you with the skills and knowledge you need.


H&E accommodates students with different academic backgrounds. In the module area "skill convergence" you will get an introduction to either history or economics depending on what you have studied before. This module area thus ensures that all students gain common knowledge of methods and concepts. Students with a degree in economics will complete the modules "Introduction to Economic History" and "Introduction to History". The modules are supposed to give students an understanding of the historical method of source criticism and to introduce them to thinking in historical terms of "understanding" and "explaining". Students with a degree in historical science will complete the modules "Introduction to Economics" and "Introduction to Empirical Methods" which are offered by different chairs in the economics department. The courses will give students a basic knowledge of the foundations of micro- and macroeconomics as well as empirical economic research.

People looking at ticker tape in front of a stock ticker (ca. 1929). Wikimedia Commons. Public Domain

In this module area you will learn specific methodological skills that will enable you to practice "quantitative" as well as "qualitative" economic history. The module "Advanced Empirical Economics I" takes up the teaching content of the Skill Convergence modules and provides you with basic knowledge of different estimation methods that are necessary for analyzing micro- and macro-data.

The module "Quantitative Methods in Economic History" teaches the most important methods that are used in quantitative economic history ("cliometrics"), for example "natural experiments". In the module "Historical Methods in Economic History" students will learn the critical use of economic historical sources like historical statistics and archival sources and how to use them for writing a source-based paper.

The specialization module area offers you the opportunity to sharpen your own profile by integrating courses with different thematic and methodological focuses. You can either attend courses from our departments or from other study progammes of the respective faculties. You can take a course, for example, on the history of economic law or on the methodology of economics. You can also gain credits by visiting an international Summer School or by completing a language course. We will also offer different courses in this module area on a regular basis as, for example, a course on the history of economic thought.


You will participate in the research colloquium which will be organized in collaboration between the different chairs of economic history. We see the research colloquium as an important cornerstone to facilitate the regular interdisciplinary exchange. The colloquium will introduce you to international research debates and will bring you together with representatives of the discipline.


This module area consists of a mandatory internship that is accompanied by a seminar for preparation and follow-up. An internship provides you with an insight view and experience that is crucial for orientation in the job market. You will also get the chance to apply your theoretical knowledge to practical issues and thus deepen your knowledge. You are free to choose the place that best suits your interests. We will, however, make available internships for a number of companies and research institutes that have expressed their willingness to offer a place to students of our programme.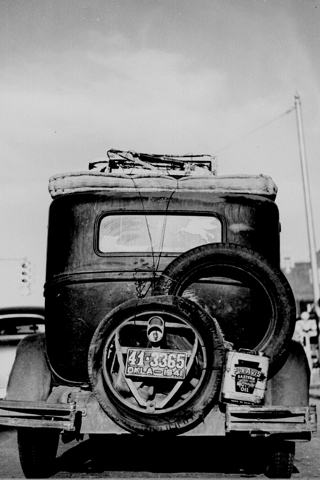 Rear view of an "Okie's" Car heading West as part of the "Dust Bowl" migration of American farmers (1941) NARA-Image, ID=532820. Public Domain.
Our degree will prepare you for undertaking a PhD in either discipline or a research-based career. Economists with interdisciplinary training are in great demand in the financial sector and in internationally oriented companies, organizations, foundations, and administrative bodies. A range of career fields require a combination of historical and economic expertise. You can go for a career in research divisions of companies and banks or in research institutes and public administrative bodies.
You can start with political, financial, and government consulting, or with archive and foundation management. You can work for museums, or the publishing industry. You can become a journalist in science or a business journalist. And if you are interested in higher education management, public relations, business consulting and marketing the degree provides you with a competitive tool. Our graduates have progressed to a variety of challenging and rewarding posts, including in academia, consultancy or the IT sector.
One of our guiding educational ideals is finding a close fit between students and the programme. If you need academic advice about the programme you should not hesitate to contact either of the programme coordinators. And if you want to visit us to learn about the programme, the university and the town we will always welcome you. Just get in contact with one of the programme coordinators. They will be happy to talk to you!